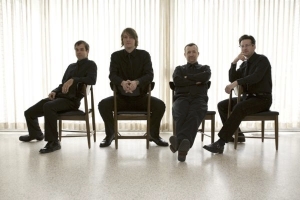 Donna Von Bruening
Samples:
The 8-Tracks
Vocals, Guitar, Bass, Drums, Keyboard
Sick and tired of the same tired song list and cornball demeanor of most Wedding Reception and Corporate Function Bands? So were the members of The 8-Tracks, and that is why they formed this group.

This professional, reliable, courteous and extremely entertaining quartet makes a point to avoid the vast majority of predictable and clichéd party tunes, and instead, has built a solid reputation and a loyal following for their inventive and unpredictable repertoire, which is based around their own arrangements of rarely-heard rock & roll, vintage soul, alternative rock and Golden-Age country songs from the '50s through the present day. The 8-tracks are the only regional group which offers approximately 85% of this material.

The only band in the area capable of pulling off the tricky three and four-part vocal harmonies required for classic '70s pop singles by artists like Badfinger and Linda Ronstadt, they're also equally at home laying down up-tempo boogie-woogie by the likes of Little Richard and Jerry Lee Lewis, as well as new-wave and college rock favorites from the '80s and '90s by The Pixies, The Cars, The Cure, R.E.M. and Cheap Trick. Throw in some Memphis soul (like Otis Redding and Wilson Pickett) and '80s R & B from Prince into the mix, timeless British Invasion stars like The Rolling Stones and The Beatles, early rockabilly icons like Carl Perkins, Elvis Presley and Roy Orbison, and honky-tonk and Americana sensations like Dwight Yoakam, Chris Isaak, The Everly Brothers, Lucinda Williams and The Drive-By Truckers, and you have the area's most versatile live dance band.

Their lineup includes drums, bass, electric and acoustic guitars, piano, Hammond B-3 organ and synthesizer. In addition to their Private Receptions, they headline the area's most prestigious nightclubs, and have been featured entertainers at many of the area's larger outdoor festivals and charity fundraisers. To date, The 8-Tracks have performed at The Mansion on Forsyth, The Chatham Club, Tybee Island's Annual Pirate Fest, The Walker Mansion, Johnson Square, The Wilmington Island Club, American Legion Post #135's Ballroom, Murphy's Law Irish Pub, The Ships of The Sea Museum, The Jinx, The Wilmington Island Club, The Liberty County Street Festival, Scandals on Tybee Island, Mercury Lounge, and many more high-profile venues from North Carolina to Florida.