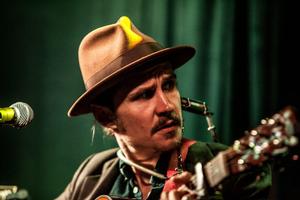 Samples:
Aaron Zimmer
Vocals, Guitar, Harmonica
Aaron Zimmer
is the guitar playing, harmonica blowing, co-writing singer in Savannah's indie bluegrass band, City Hotel. The readers of "Connect Savannah" voted City Hotel 'Best Acoustic Band' in 2013 and 'Best Bluegrass Band' and 'Best Folk Band' in 2015. He is also the founder of The Grand Gestures, a low country based honky-tonk super group.
Grandson of renowned American poet, Paul Zimmer, Aaron has been playing and writing music since he was 14. Aaron is a native of the foothills of the Appalachian Mountains, hailing from northwestern Georgia. He was raised on an eclectic mix of folk music, old time and rock and roll.
His songwriting focuses largely on experiences pulled from his own life and his witty lyricism brings out a fresh new perspective on timeless themes that anyone can relate to.